Do you plan to work with a graphic designer to create your next book cover?
If so, you need to be prepared.
It's easy to think that if you're handing the design over to a professional, you can just sit back and relax and let them do their thing.
But if you want a book cover that helps sell the book and reflects the message you intended, you have to be sure that you give your designer the right information up front, and that you're ready to communicate clearly when it comes to making changes.
I'm happy to announce that at the time of this writing, I have a new book coming out entitled Your Writing Matters. I'll be talking more about that in the future, but meanwhile thought this would be the perfect opportunity to share the steps I went through with my graphic designer to come up with the final cover, in case they may be helpful to you.
Before Designing Your Book Cover, You Need These Three Things
I work with Damonza for my book covers (I'd highly recommend them), and they require the following information before starting on your cover. Whether your designer asks for these materials or not, I think they are helpful to have ready before you start.
This is assuming that you've decided on your title and subtitle (if applicable).
1. Other Covers that You Like
This step is important, but you have to be careful. Keep in mind that your designer is going to be looking at these covers for clues as to what you may like to see in this cover. So yes, choose covers you like, but choose covers that have elements you'd like to see in the cover you are designing.
Tip: I've found that it can really help your designer to say exactly what you like about each cover. Is the color? The font? The type of image? Whatever it is that you think might apply to your new cover, detail that in your notes to the designer for each cover you choose.
Also, it can help to choose covers in the same genre as your book, but if you're having trouble finding some that you like, you can go outside your genre as long as you specify what works for you in each one.
It's worthwhile to say what you don't like about each cover you choose, as well. Doing so will ensure your designer avoids adding in elements you don't want.
2. Whether or Not This Book is In a Series
Your Writing Matters is my third book for writers, and I wanted the basic design to fit in with the other two.
If your book is part of a series, be sure to let your designer know that, and provide images of the other covers to help them maintain the basic series look.
3. Your Book's Back Cover Copy
Your back cover copy is usually the best short summary of what the book is about, and can orient your designer as to who your reader is likely to be.
Just make sure that you have worked on this copy and polished it up so it's as good as you can make it. Pass it around a few other readers to be sure it's intriguing and makes people want to read the book.
What to Do You Get the First Drafts of Your Book Cover
You've given your designer the above information and you're eager to see the first drafts. I received two from Damonza (I have their generous permission to share those here).
Don't expect everything to be perfect the first time (though it can happen!). Your first job is to look for what's working. What did the designer get right? Look for elements you want to hang on to in future drafts.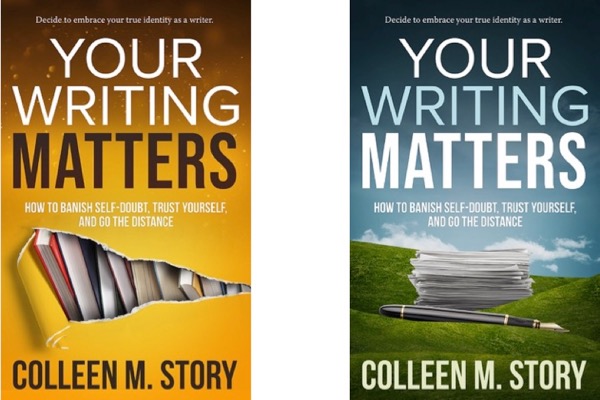 In this case, I was very happy to see that many elements marked this cover as part of my nonfiction book series for writers. The fonts are similar and the positioning of the title and author name are as well. It is clear that the new cover will fit in well with the other two.
This issue was handled, so I made sure to thank the designer for that and to emphasize that I wanted to retain this look as we continued working toward the final cover.
I also liked the boldness of the colors, but wasn't in love with either shade. But rather than focus on that at this point, I moved to the most important element—the image.
I didn't like the fake look of the papers and pen on the hills at all, and though the torn paper over the books was kind of neat, it didn't come close to conveying the book's main message.
I communicated this to the designer and tried to provide a few more details on what the book was about. Then I waited for the second drafts.
What to Ask Yourself When You Get the Second Drafts of Your Book Cover
When the second drafts arrived in my inbox, I have to admit that I was disappointed. I have worked with Damonza for all three of my nonfiction book covers, and usually by the second draft we are closer to the final.
But that was not the case this time.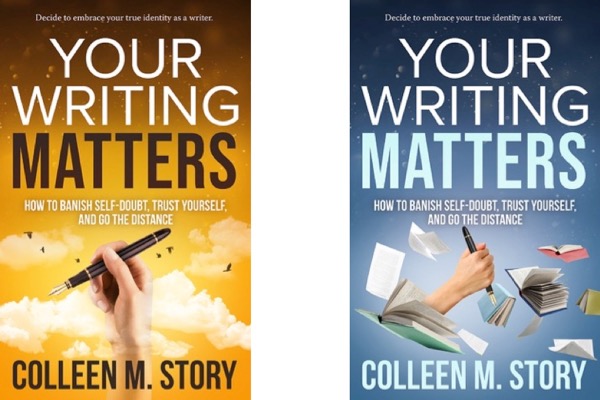 Again, the series look is still there, but the images are even further away from what I was hoping for.
At this point, if you're not getting closer to what you want with your cover, don't criticize your designer. Look in the mirror. Most likely, there is something wrong with your communication.
Go Back to the Drawing Board If You Need To
I realized this was the case with me, so I went back to the beginning and did another round of research on covers that I liked. This time, I told the designer what I liked (and didn't like) about each one. (I failed to do that the first time—I just sent cover examples.)
Next, I made it very clear that I didn't like the "floating writing tools" idea, and wanted a more cohesive image for the cover.
I also realized that I needed to be more clear on the type of colors I wanted. I'm not a fan of yellow, but the designer had retained this color because it was on one of my original covers that I "liked," and I had failed to say that I would rather not have a yellow color. It was time to correct that, so I offered some samples with colors I preferred.
Most of all, I realized that I was not conveying the theme of the book well at all. If I had, the designer would have been able to better visualize that concept. So I did some serious soul-searching, reviewing my book and what I hoped it would mean to readers.
Finally, I went back to the designer with this message: "This is book is about the love of writing for writing's sake." I noted that the cover needed to convey a much more heartfelt message, as that's what the book was meant to do. I suggested a person hugging her books close, or something similar for an image.
I'm sure it would have helped if I would have said this in the first place, but it took the challenge of designing the right cover to help me realize it myself—another reason why working on a cover can be helpful to your future marketing efforts!
3. The Third Draft of Your Book Cover Should Be Much Closer
If you're doing your job of communicating, your third drafts should be much closer to what you want. After all, neither you nor your designer has endless time to go around and around with covers.
Progress is a good sign and means you can keep going. If you're not seeing progress, step back and ask yourself why. It is possible that you may need to find another designer, but if you did your due diligence before you hired this one (checked out their other designs and testimonials), it's more likely that you just aren't seeing eye to eye. A phone call or zoom call may be helpful.
In this case, I was thrilled when I got this round of drafts.

These had images that were much closer to conveying the heart of the story, so when I saw them, I knew that the job was almost done. I chose the one I liked best and asked for a few subtle changes in the coloring, to make it a bit bolder and richer.
At this point I breathed a heavy sigh of relief. We were almost there!
Choose Your Final Book Cover: Yay!
I'm happy to share that this is the final cover for Your Writing Matters!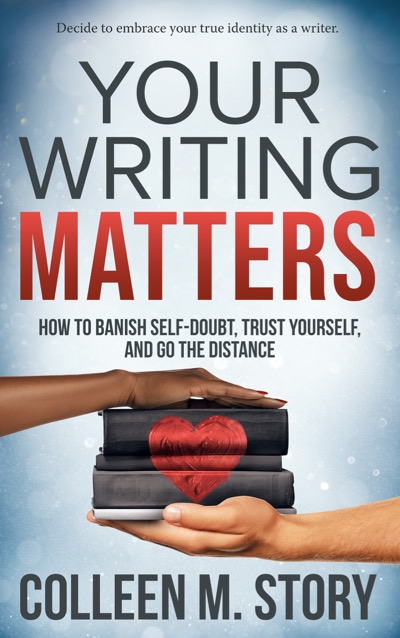 To me, this cover marks all the boxes:
It fits in with my other nonfiction writing books.
The image conveys the core theme of the book, which is the love of writing.
It has bold and attractive colors and I love the red heart. (It also appears on the spine!)
Read more about Your Writing Matters. It will be available for pre-order starting on June 7th.
Meanwhile, good luck on any book cover you may be working on!