I may be the only author I know who had her audiobook recorded, produced and ready to go six months before publication. Why so early? I was still in the revision stage of my memoir, Crash: How I Became a Reluctant Caregiver, and there was a risk of changes to my manuscript not being reflected in the audiobook. But I was confident that any changes would be insignificant. And, thanks to Covid, I had tons of time on my hands (didn't we all?) so I figured I'd check that task off the list.
Not that there's a timetable I was following. My publisher, She Writes Press, offered little guidance on audiobook production, so what's an author to do?  As a newbie, I had zero idea how to go about it.  My editor suggested a friend of his who owned an audiobook production company, ProAudio Voices. I knew that the main question I needed to answer before my first meeting with Becky, the owner, was – will I record it myself, or hire an actor?
My other job – my day job, if you will – is teaching voice, piano, and acting, so you'd think the answer would have been clear. I've been on stage my whole life and train others how to project, to speak with clear diction, to find the intention and motivation in a phrase – especially dialogue. Plus, my story is just that – MY story. Wouldn't that make an audio version that much more personal – to hear it in the author's own voice? Yet, I was unsure. On occasion I'd need to speak in German and Hebrew accents, sometimes in the same scene. I was also concerned about my ability to get through a recording session without breaking down. Becky suggested an "audition" – I'd read a few pages of my manuscript using the voice memo app on my phone. To my relief she loved it and I was green-lighted to narrate my book.
Next was figuring out the recording process. Becky's studio was in another state so out of the question. She said I could do it at home, but I'd probably need to go into a closet or bathroom to eliminate ambient noise –  not an attractive prospect. Plus, I have two dogs who like to bark at everything and anything they hear, in my rustic neighborhood squirrels and deer (often imaginary) included. A professional recording studio would be expensive.
Again, what to do?  I reached out to my voice students' husband Tom – a recording engineer I'd worked with in the past. He was happy to take on this (for him) unusual gig and quoted me an astoundingly low rate of $500 for the whole job – which we estimated to be 12-15 hours of recording time. I didn't realize for that price he'd also edit and do the mastering (enhancing and improving the sound) for the recording, a task normally performed by the production company (for which they also charge substantially.) WIN!
Tom didn't have a real recording studio, but he did have a detached garage he'd insulated (though not soundproofed) with a nice setup. The lack of soundproofing became an issue on occasion. His neighbor decided to change their gardening schedule and we had to cut short a session due to leaf blowers, and cancel when his street was being paved, but we had plenty of time (another good reason to start early, less stress!)
After our first session, I realized that what would work best for me is recording no more than two chapters (of my 12-chapter book) at a time, mainly due to emotional drainage. I'd "read" my book countless times but reliving that trauma through speaking it aloud was – at times – incapacitating and exhausting.
Tom was great, coaching me to just stop and start a sentence again when I flubbed a word or became choked up. He was hearing the story for the first time; his reaction was invigorating, validation that my words were moving and impactful.
Narrating my own audiobook at the stage I did (during the final revision process) had an added advantage I didn't expect: reading it aloud helped me identify and realize errors and words/phrases that just didn't work. It's the best form of a final proofread.
Tom had me listen to each recording after he cleaned it up (almost as painful as watching myself sing on video.) He sent the kit and kaboodle to Becky who put the finishing touches on it – credits, ISBN (which I had to purchase) and formatting. It was ready to go on my pub date.
Rachel's Audiobook Tips:
Do it! Some folks will never read your book unless it's in listenable form.
If you'd like to narrate it, try recording a few chapters and share it with some Beta listeners. If that doesn't pan out, hire an actor. Most of them need work, so you'll be doing a mitzvah (good deed.)
It's OK not to do the whole narration in one or two sessions.
Start early, preferably before publication. Less stress and additional proofing benefits.
If you decide to be the narrator, practice! Most authors aren't trained actors. Get used to the sound of your own voice, and try to capture the unique intonations and vocal patterns of your characters.
Since audiobooks are a relatively new medium, most authors don't have experience with the process. I certainly didn't. Don't be intimidated!  Ask questions, hire experienced folks, make decisions based on what works for you. You'll enjoy seeing that Audiobook version right next to Kindle and Paperback.
RACHEL MICHELBERG grew up in the San Francisco Bay Area and still enjoys living there with her husband, Richard, and their two dogs, Nala and Beenie. She earned her Bachelor of Music degree in vocal performance from San Jose State University and has performed leading roles in musicals and opera from Carmen to My Fair Lady as well as the part of the Mother Abbess (three times!) in The Sound of Music. When Rachel isn't working with one of her twenty voice and piano students, she loves gardening, hiking, and making her own bone broth. CRASH: How I Became a Reluctant Caregiver is her first book. Find her online at rachelmichelbergauthor.com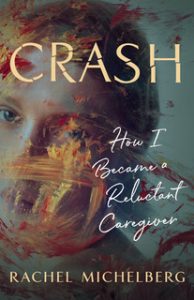 Rachel likes to think of herself as a nice Jewish girl, dedicated to doing what's honorable, just as her parents raised her to do. But when her husband, David, survives a plane crash and is left with severe brain damage, she faces a choice: will she dedicate her life to caring for a man she no longer loves, or walk away?
Their marriage had been rocky at the time of the accident, and though she wants to do the right thing, Rachel doesn't know how she is supposed to care for two kids in addition to a now irrational, incontinent, and seizure-prone grown man.
And how will she manage to see her lover? But then again, what kind of selfish monster would refuse to care for her disabled husband, no matter how unhappy her marriage had been? Rachel wants to believe that she can dedicate her life to David's needs, but knows in her heart it is impossible. Crash tackles a pervasive dilemma in our culture: the moral conflicts individuals face when caregiving for a disabled or cognitively impaired family member.